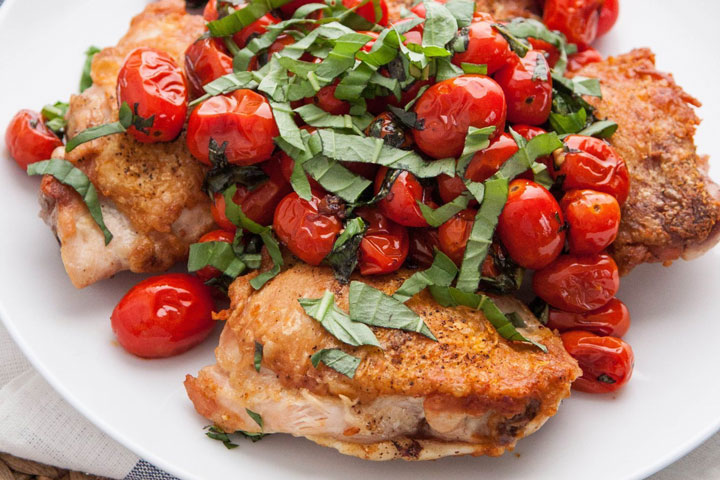 Recipe: Chicken Thighs with Blistered Tomatoes and Basil
With just five ingredients and about half an hour, you can be feasting on crispy-skinned, tender chicken piled high with beautiful tomatoes and herbs. This is a simple summer dinner, the best kind.
Serves: 4
Ingredients:
2 pounds chicken thighs, bone-in and skin-on, about 4 to 6
Salt and freshly-ground black pepper
2 tablespoons olive oil, divided
1 pint grape tomatoes
2 cloves garlic, minced
1/2 cup fresh basil leaves, chopped
Instructions:
Preheat the oven to 450°F. Pat the chicken completely dry, and season on both sides with salt and pepper.
Heat 1 tablespoon of olive oil in a large cast iron or oven-safe skillet over medium-high heat. When the oil is hot, but not smoking, add the chicken to the skillet, skin side down and evenly spaced apart. Cook until the fat is rendered and the skin is crisp and golden brown, about 12 minutes.
Carefully transfer the skillet to the oven and cook, with the chicken remaining skin side down, for 12 minutes. Use tongs to flip the chicken over and cook for another 7 minutes. Remove the chicken from the oven and transfer to a paper towel-lined plate to absorb any excess oil.
While the chicken is cooking, heat the remaining 1 tablespoon of olive oil in a large sauté pan over medium heat. When the oil is hot but not smoking add the tomatoes. Season with a pinch of salt and pepper, and stir to coat with the oil. Cook, stirring the tomatoes occasionally, until they blister, pop, and soften, about 20 minutes. Stir in the minced garlic and cook for 2 more minutes. Remove the pan from the heat and stir in most of the basil.
Divide the chicken between plates, top with the blistered tomatoes and garnish with the remaining fresh basil. Serve immediately.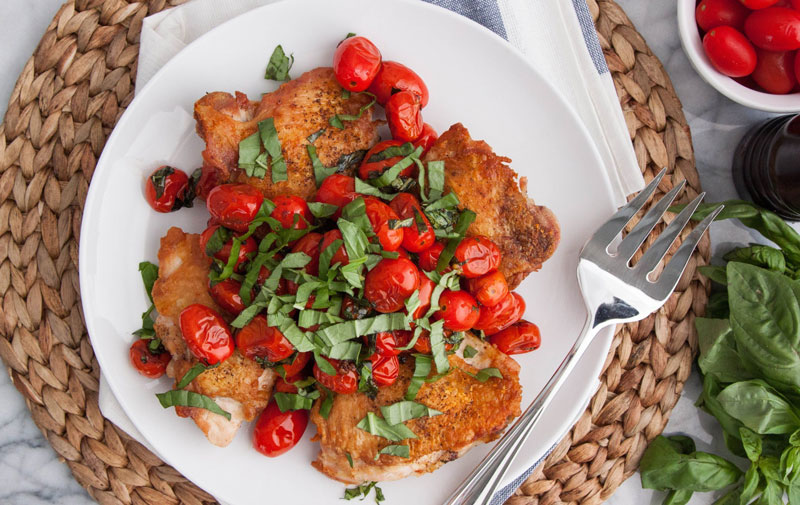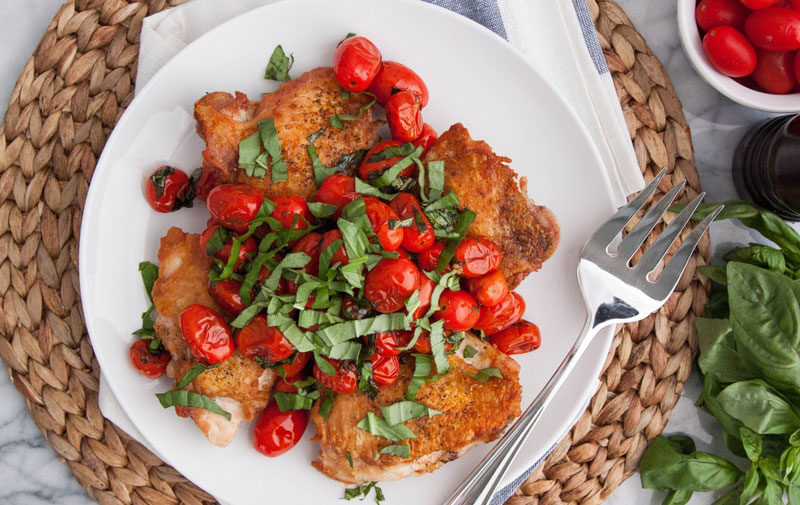 Source thekitchn.com