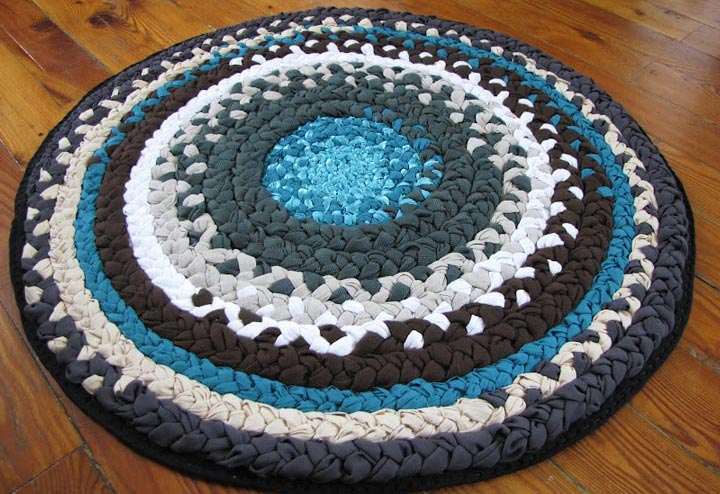 How make a bathroom rug from fabric braids, step by step.
It's a rug made from fabric braids, I made mine for the bathroom. It's really quite simple to make, and what I love about it is that you can incorporate fabrics in your stash that you wouldn't know what else to do with anymore otherwise. You know, the sales-bin fabric that upon closer inspection is a really nasty synthetic fiber, not suitable for a garment. Or the one that looks different in daylight, or the left-overs from a garment, for which you bought twice the amount than you actually needed. You get my point.
The only thing you should think about is that you can wash it in the end – so no fabrics that bleed heavily or that aren't washable. Make sure you pre-wash all the fabrics, too.
 Instructions:
You need fabric strips, so this project is more suitable for fabric left-overs that aren't in very small pieces, not tiny scraps. More like that left-over yard from a project… Cut strips of about 4-6 inches width, depending of how thick your fabric is and how thick you want your braids to be. I started with a light fabric and narrow strips in the center, which made the narrow curve easier.
You need an underlying fabric, a little bigger than you want your rug to be in the end. Of course you can piece it together, as it will not be visible in the end. I used an old towel, which worked really well.
Take three strips of fabric and braid them, always making sure to fold under the rough, fraying edges so that the top of the braid is nice and smooth. When one strip comes to an end, add on the next strips of fabric. Don't make the mistake to sew together the strips before braiding. They will tangle up and make braiding a big pain. So it goes braiding, adding on, braiding, adding on…
Once you have a good amount of braiding done (but you don't have to have everything braided yet, you'll go back and braid some more later, the project is much easier to handle that way!), you start sewing the outside of the braid to the towel/base fabric, using a strong needle and heavy duty thread that doesn't tear.
Start in the center of the fabric. In the beginning, it helps to use a crochet hook
Bathroom Rug video tutorial step by step
Source ofdreamsandseams.blogspot.ba