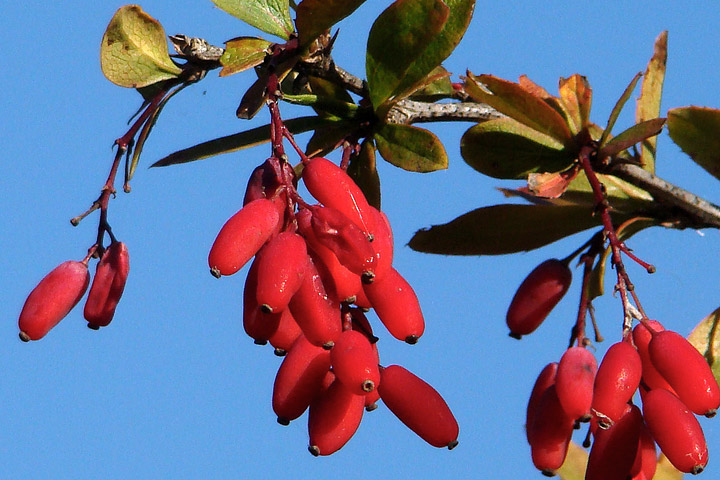 Berberine is a yellow-colored alkaloid compound found in several different plants, including European barberry, goldenseal, goldthread, Oregon grape, phellodendron, and tree turmeric (Indian Barberry).
Berberine has antibacterial, anti-inflammatory, and immune-enhancing properties. It's effective against a wide range of bacteria, protozoa, and fungi. It can be used topically on cuts and other wounds, and it's perhaps most commonly used to treat gastrointestinal issues, including traveller's diarrhea and that from food poisoning.
However, what newer research is uncovering (and what traditional medicine has likely known for centuries) is that the benefits of berberine extend far beyond its antimicrobial properties. As reported in the Natural Medicine Journal:
"In recent years, the botanical extract berberine has been pushed from relative obscurity to front and center on our supplement shelves due to newly published research. Over a third of the approximately 2,800 studies on berberine listed on PubMed were published in the last 5 years. These studies reveal that berberine may have clinical applications in a range of conditions."
AMPK Activation
In order to understand berberine, and why it is now vying for a position as one of the most powerful supplements in the world, it's important to understand adenosine monophosphate-activated protein kinase, or AMPK.
AMPK is an enzyme inside your body's cells. It's sometimes called a "metabolic master switch" because it plays an important role in regulating metabolism. According to the Natural Medicine Journal:
"AMPK induces a cascade of events within cells that are all involved in maintaining energy homeostasis… AMPK regulates an array of biological activities that normalize lipid, glucose, and energy imbalances.

"Berberine activates AMPK in a manner similar to how exercise stimulates increased strength and weight loss. Thus, any condition that would be favorably impacted by a patient losing weight and/or exercising more may be impacted favorably by oral berberine supplementation. It makes sense to consider using berberine in patients with insulin resistance, pre-diabetes, diabetes, metabolic syndrome, hypertension, heart disease, dyslipidemia, cancer, depression, and other neuropsychiatric diseases."

…One way to appreciate berberine's potential is to think of it as having the same effect on a patient as increasing exercise while at the same time restricting calorie intake. Think of the effects of AMPK suppression as similar to those of eating a high-calorie diet while leading a very sedentary lifestyle."
Berberine is one of the few compounds known to activate AMPK (resveratrol is another).
Berberine Works as Well as Metformin for Diabetes
One of the most celebrated studies on berberine compared taking 500 milligrams (mg) of the compound two to three times daily for three months with the diabetes drug metformin. Berberine was able to control blood sugar and lipid metabolism as effectively as metformin, with researchers describing berberine as a "potent oral hypoglycemic agent."
A separate meta-analysis also revealed "berberine has comparable therapeutic effect on type 2 DM [diabetes mellitus], hyperlipidemia and hypertension with no serious side effect."5As noted by Dr. Julian Whitaker, in people with diabetes AMPK activation by berberine:
Stimulates the uptake of glucose into the cells
Improves insulin sensitivity
Reduces glucose production in the liver
A review published in the International Journal of Endocrinology further expanded on berberine's role in treating type 2 diabetes:
"…modern pharmacological effects of BBR on glucose metabolism… [include] improving insulin resistance, promoting insulin secretion, inhibiting gluconeogenesis in liver, stimulating glycolysis in peripheral tissue cells, modulating gut microbiota, reducing intestinal absorption of glucose, and regulating lipid metabolism.

BBR [berberine] is used to treat diabetic nephropathy (DPN), diabetic neuropathy (DN), and diabetic cardiomyopathy due to its antioxidant and anti-inflammatory activities."
Berberine May Help with Weight Loss, Too
When obese adults took 500 mg of berberine three times daily for 12 weeks, they lost an average of five pounds each. Blood levels of triglycerides and cholesterol were also reduced.
Because of berberine's ability to inhibit fat storage and improve the function of hormones such as insulin, leptin, and adiponectin, separate research concluded, "berberine has potential clinical application in reducing visceral fat and controlling central obesity."
Berberine also plays a role in enhancing brown fat activity. Brown fat is a heat-generating type of fat that burns energy instead of storing it, and this may have important implications when it comes to weight loss. It is colored brown because it is loaded with mitochondria that convert the fat directly to energy to produce heat. An animal study revealed:
"BBR [berberine] increases energy expenditure, limits weight gain, improves cold tolerance and enhances brown adipose tissue (BAT) activity in obese… mice… Our findings establish a role for BBR in regulating organismal energy balance, which may have potential therapeutic implications for the treatment of obesity."
Protect Your Heart Health
It's beneficial for diabetes and weight control… and it appears berberine is beneficial for heart health, too. Part of the benefit likely comes from the compound's role in keeping blood sugar levels and obesity in check, both of which can raise your risk of heart disease.
It also has a favorable effect on triglycerides and cholesterol levels, and has been shown to reduce apolipoprotein B, a risk factor for heart disease, by up to 15 percent. According to Dr. Whitaker, for people with heart-related problems, AMPK activation by berberine:
Slows the release of free fatty acids, which lowers lipid levels and prevents harmful fat deposition
Boosts fat burning in the mitochondria
Stimulates the release of nitric oxide (NO), a signaling molecule that relaxes the arteries, increases blood flow and lowers blood pressure, and protects against atherosclerosis
In addition, berberine is known to dilate your blood vessels. In one study, those who took berberine for eight weeks had improved heart function and increased ability to exercise compared to those took a placebo.
What Else Is Berberine Good For?
Preliminary research suggests berberine's beneficial effects may cascade into helping many different conditions. Among them:
Depression, perhaps due to increases in noradrenaline and serotonin
Infections, including anti-viral effects against the flu
Cancer: Berberine may help suppress tumor growth and spread
Non-alcoholic fatty liver disease (NAFLD),as it helps reduce fat build up in your liver
Antioxidant
Anti-inflammatory
Berberine Absorption Becoming Better Understood
While the topical antimicrobial effects of berberine are well established, it used to be thought that berberine had poor absorption when consumed orally. Researchers typically only found low blood levels of berberine after supplementation, and because of this some doubted its effects as a systemic agent. However, it turns out berberine is quite well absorbed; it's just metabolized so quickly that blood tests fail to measure it before it's used by your body.




If you're interested in a broad-based plant compound to support your health, considering taking berberine. Work with a natural health care practitioner to determine the proper dose. Because of its short half-life, you generally need to take this supplement three times a day to keep stable levels in your blood. Many studies use dosages of 900 to 1,500 mg per day, which might be broken down into 500 mg three times a day before meals. Berberine may just be one of those supplements that is good for almost everything!
Source: articles.mercola.com