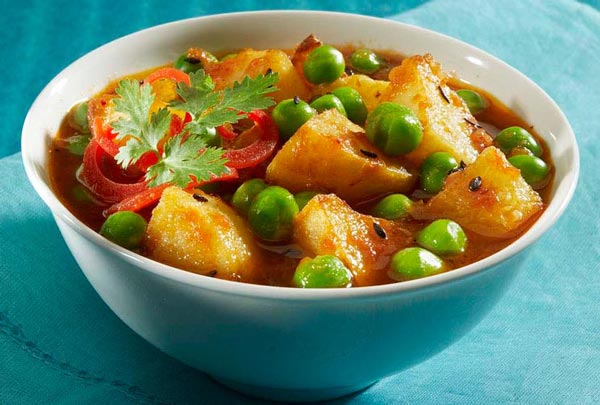 Aloo mutter (also spelled aloo mattar or aloo matar) is a Punjabi dish which is made from potatoes and peas in a spiced creamy based sauce. A favourite for vegetarians…
Aloo Mutter Recipe
Serves: 3       Prep Time: 10 mins.        Cook Time: 20 mins.
Ingredients:
Potatoes – 1 cm cubes(boiled)4 medium
Green peas shelled(blanched) – 1 1/4 cup
Oil – 2 tbsp.
Cumin seeds – 1 tsp.
Ginger – 1 inch piece
Green chilli – 1 slit
Red chilli powder – 1 tsp.
Turmeric powder – 1/4 tsp.
Coriander powder- 1 1/2 tsp.
Garam masala powder – 1 tsp.
Salt – to taste
Fresh coriander leaves – 2 tbsp.
Directions:
Heat oil in a pan over medium heat.
Add cumin seeds and when it crackles add ginger and green chilli, stir-fry for a minute.
Add green peas, potatoes and stir fry till for 2 minutes.
Add red chilli powder, turmeric powder, and coriander powder and stir-fry at slow heat till the spices blend well with the vegetables.
Add salt and Garam masala and finish with chopped coriander leaves.
Nutritional Facts:
Nutrient Amount per Serving(250 gm.)
Calories 184.2
Cholesterol 0.0 mg
Carbohydrate 21.7 g
Protein 4.6 g
Source hotpotrecipes.com