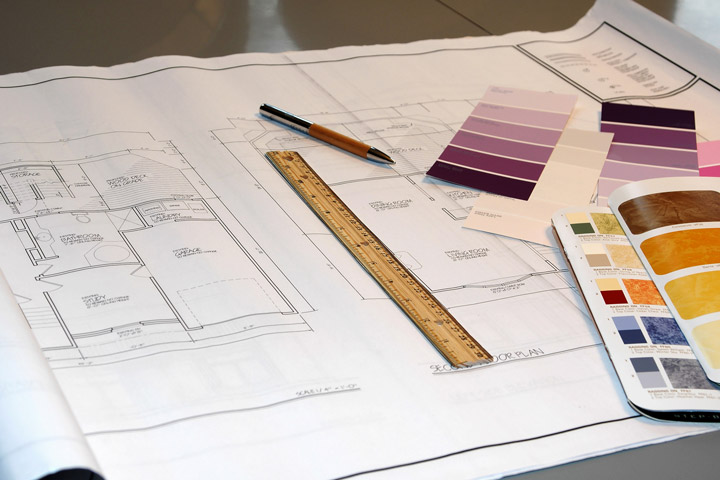 10 Tips to help you successfully achieve your ideal interior design
From choosing your floors to painting your walls, tips are not only functional but also stylish. You've never had more fun getting your hands dirty! Enjoy!
1. Take the measurements of your room
Take the measurements of your room and mark them out on a plan. Then add cut-out shapes of your furniture, to find their ideal placement in the room. This will help you to work out how people will move around or circulate in the room.
2. Identify where is best natural lighting in your room
Identify where the best natural lighting in your room is – from doors or windows – in order to plan where to put additional artificial lighting.
3. Plan your interior design around …
You should plan your interior design around objects, furniture or even floor coverings. Choose these items based on the style which inspires your choice of décor. If you're looking for ideas, check out Tarkett's design trends which have something for everyone's taste.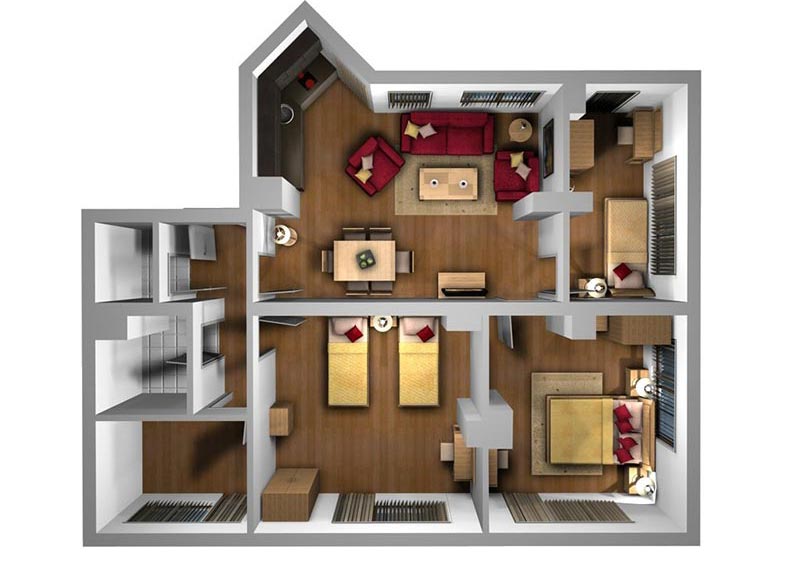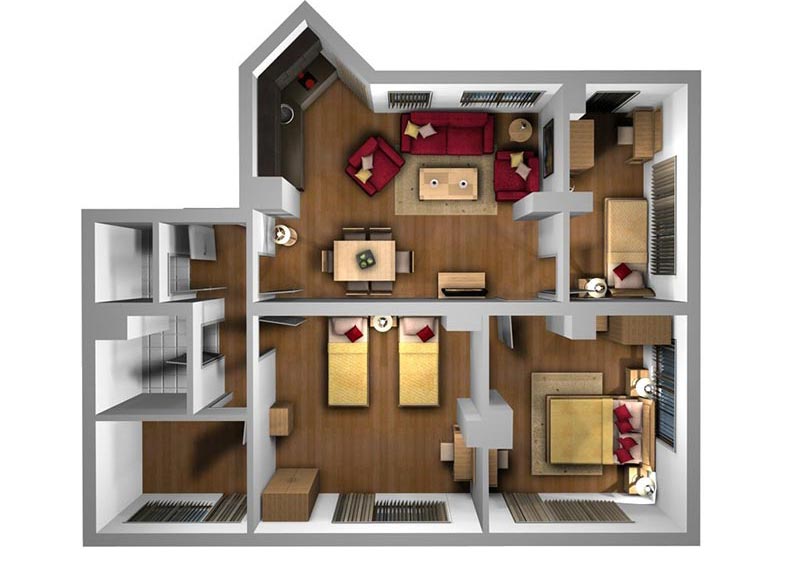 4. Decide on the colours that you want to use
Next it's best to decide on the colours that you want to use in the room. In general it's preferable to limit yourself to three. Then you can experiment by using and adapting these – see the point below.
5. Gather a patchwork of the colours chosen
Gather round you a patchwork of materials in these colours in order to help you imagine yourself in this future interior décor. Remember to take into account the furniture, curtains, walls, floors and doors … Help yourself think about the ensemble by having a couple of photos of your room. That way you can visualize how the colours and tones will look in the space.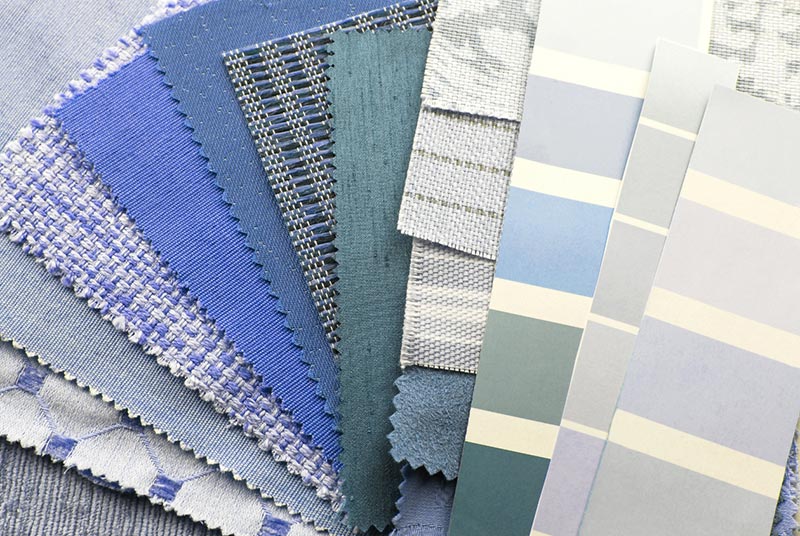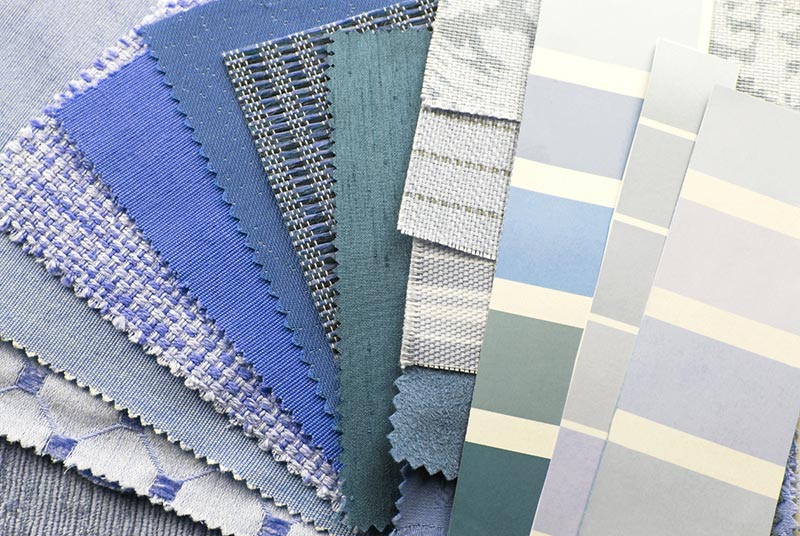 6. Start with the walls
Whether you choose paint or wallpaper, your walls will certainly create the main colour in the room. You can also leave them in a neutral white or gray to highlight certain colours used elsewhere. You may need to be careful not to accentuate these too much, as they could draw too much attention if not sufficiently balanced by other nuances. If you decide on a particular colour, choose a matt finish, which can better hide small defects. If you want to make your room look bigger, opt for bright or clear colours. Make a contrast between walls and a white ceiling to give volume. You can go for a deeper effect, for example by creating a colour contrast on walls opposite natural lighting. You can vary the colour by lightening the tone as you go nearer to the light and paint the wall of the window in white.
7. Consider the floor
Now it's time to consider the floor. In your patchwork of swatches, choose the material you want to cover your floor. Vinyl, laminate and wood have a range of different décors and designs to help your selection. Whatever the pattern or texture you are looking for, try to choose a floor covering that contrasts somewhat with your walls – for example two tones lighter or darker. Don't forget to think about how the natural light interacts on your floor. Varnished or matt floors will give quite different effects.
If you opt for parquet floor look, make sure you place the planks parallel to the dominant light. However, if your room is long, you can also decide to place them in a lengthwise direction, in line with the longest side of the room.
8. Position your furniture
Once you've created the overall decoration, position your furniture. Don't hesitate to try different combinations to see what works. Complete the interior design with objects. Be careful not to clutter the space with too many and, above all, think about the balance of colour. For example, a picture and a rug can create that extra 5% of lively colour to give character to a room. Don't forget that curtains are an important visual dressing. Their look is constant, because the fabric does not pick up the light in the same way as other materials. They may even offer you the possibility to vary your lighting by the use of netting or curtain tiebacks.
9. Prioritize your unnatural lighting
Lighting plays a very important role in the room – modelling the space in the evenings and giving a special atmosphere to the space. As hanging lights tend to visually narrow the room, prioritize them where there are fewer natural light sources. Don't forget to plan enough power outlets. When installing your lighting, experiment to vary the light around the room. You can add dimming switches that allow you to adjust lighting to create different ambiances according to your mood.
Be careful of lights that dazzle. If you position them more indirectly it will add volume by bathing the walls with light. Consider also spotlights recessed in the ceiling to provide a soft and more directive lighting. They can help highlight a valued object or furniture like a table.
10. Make your style your own
Whatever advice you follow, make your style your own. It's through experimenting and relooking things that you'll develop your eye for interior design! The web is full of visual resources from professional photographers and interior designers: take a look around and get inspiration!
Source home.tarkett.com