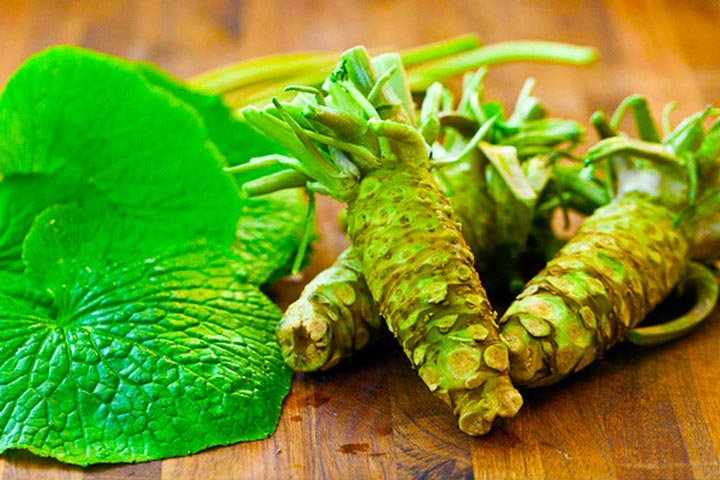 It's the kick that fans of Japanese cuisine crave– the taste of wasabi, consumed fresh in green paste form for sushi or mixed as powder in everyday treats. A member of the Brassicaceae family (which includes cabbage, horseradish, and mustard), wasabi is also known as Japanese horseradish. Note, however, that horseradish is a different plant, although it is often used as a substitute for wasabi.
In Japan, where the earliest cultivation of the rhizome dates back to the 10th century, wasabi grows naturally in mountain streambeds. There are many cultivars in the marketplace, the main ones being W. japonica "Daruma" and "Mazuma." Wasabi is most commonly consumed in the grated form of a green paste, as a condiment for sashimi (raw seafood) and sushi. But it is also used in many other Japanese dishes.
It has a strong, hot flavor that dissipates within a few seconds and leaves no burning aftertaste – it is, after all, not oil-based and therefore the burning sensation is "short-lived" compared to those of chili peppers. The sensation is felt mostly in your nasal passage and can cause pain depending on the amount consumed.
However, be aware of the fact that most "wasabi" powders and pastes available in the supermarket and restaurants contain only a minimal amount or even no real wasabi at all. Instead, much of what is presented as wasabi is in fact made from horseradish, Chinese mustard, and green food coloring. This is because cultivating real wasabi remains difficult and thus quite expensive. In fact, it is rare to find real wasabi plants outside of Japan, and many products labeled as wasabi do not actually contain the wasabi plant as an ingredient. In the United States, authentic wasabi is typically found only at specialty stores and high-end dining places.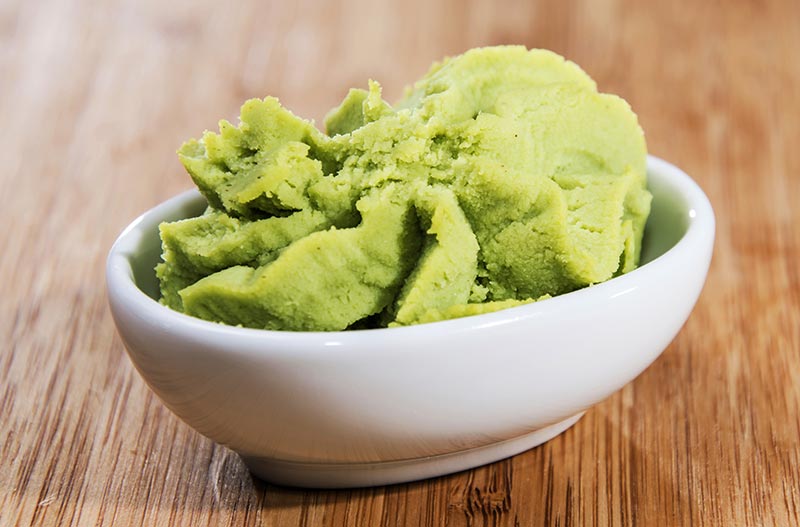 Wasabi Health Benefits
Wasabi has anti-inflammatory, antimicrobial, anti-platelet, and potentially anti-cancer properties. It contains potassium, calcium, and vitamin C. As it is generally used in small amounts as a condiment and therefore does not qualify as a significant nutrient source.
Take note that the benefits can come only from the real deal – Only authentic wasabi provides these benefits so there are plenty of reasons to demand the real deal! Unfortunately, since it is extremely hard to come by even in Japan (it is estimated that only five percent of Japanese restaurants and only very high-end ones serve the real thing), you can find a good alternative in "wasabi" made from horseradish, spirulina, and turmeric.
Make sure to avoid wasabi imposters sold at most sushi places and groceries, as they may be laden with artificial flavors and artificial colors, as well as likely GM ingredients such as corn and soy.
Wasabi Health Benefits
Wasabi is not only celebrated for its culinary uses, but it is also investigated for its potential medicinal properties. Scientists looked at its isothiocyanates, particularly 6-methylsulfinylhexyl isothiocyanate, which is believed to alleviate symptoms in disorders such as allergies, asthma, cancer, inflammation, and neurodegenerative diseases. 6-Methylsulfinylhexyl isothiocyanate is believed to act on Nrf2, a transcription factor involved in the antioxidant response.
On the other hand, a study in the International Journal of Food Microbiology2 examined the bactericidal activity of Korean and Japanese wasabi roots, stems, and leaves against Helicobacter pylori. All parts of wasabi showed bactericidal activities against specific strains of H. pylori bacteria, which causes a chronic low-level inflammation of your stomach lining that can result in an ulcer and associated symptoms.
Source mercola.com