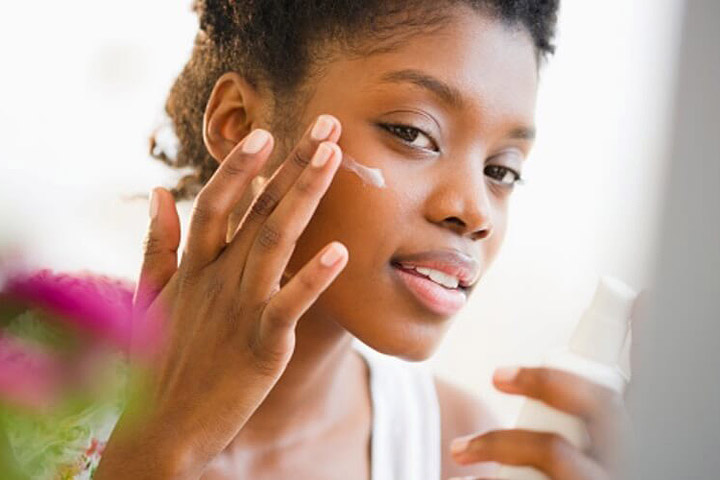 Dermatologists and healthcare professionals warn that we should reapply sunscreen after two hours, but what if you have already applied makeup? Reapplying sunscreen to a made up face is definitely going to ruin the makeup right? No need for concern. Here are some solutions.
But I'm just going to the office; I won't be in the sun!
"When it comes to cosmetics, women want natural looking coverage and pure ingredients. We also believe that makeup isn't about just covering up, it's about delivering optimal performance," says Warren Wallo, Director of Scientific Engagement for Johnson & Johnson Skincare Research & Development. "Anything that goes on your skin needs to benefit it – in this case, sun protection even while you're at the office. Remember on a typical workday, you will be walking to your car or standing in the sun to hail a cab, so you need to protect your skin all of the time, and not just at the beach."
An important reason that skincare professionals promote using sunscreen and not just makeup with SPF is that the coverage from makeup varies according to how it is applied and therefore might not be as effective.
Apply sunscreen before moisturizer and makeup
After you have cleansed your face, apply a sunscreen with an SPF 30 or higher before applying makeup, advises board certified dermatologist Dr. Paul Friedman, M.D., director of the Dermatology & Laser Surgery Center in Houston Texas. "It is best to wait a few minutes before applying the makeup, so that the makeup does not cake up."
Waiting about 20 minutes before applying moisturizer or makeup also prevents decreasing the effectiveness of sunscreen.
I recommend checking out these highly recommended sunscreens on Amazon.com:
Juice Beauty SPF 30 Oil-Free Moisturizer
Coola Suncare Mineral Face SPF 30
Try using mineral makeup
When you're planning to stay out in the sun for longer than 15 minutes, "Mineral makeup with SPF can enhance your protection if layered over a sunscreen product," explains Leslie Baumann, MD, Director of the Cosmetic Dermatology division at Miller School of Medicine, University of Miami, in an article on the Skin Cancer Foundation website. The article also suggests that when the powder is applied on top of sunscreen, that it will probably cover any spots you may have missed.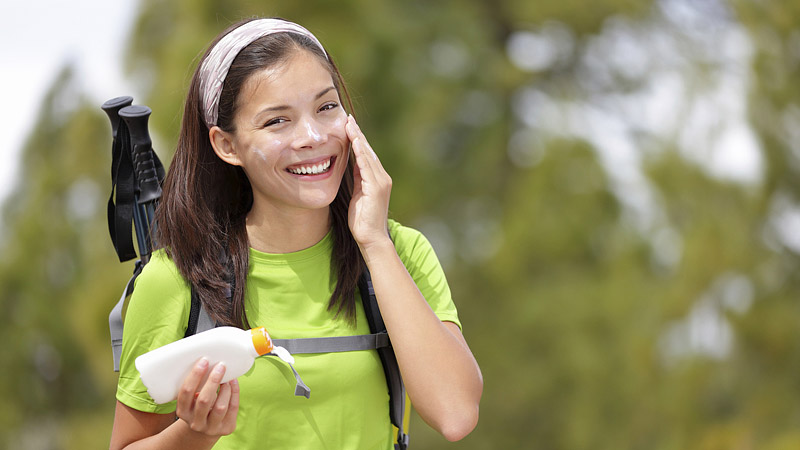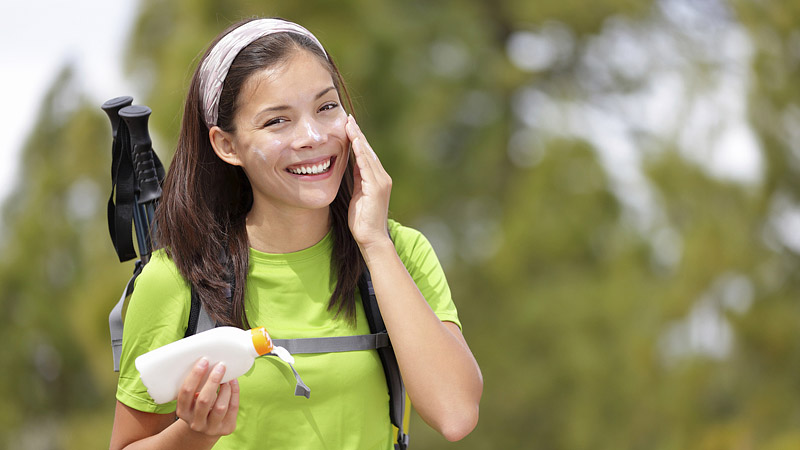 If you're looking for a mineral makeup with SPF, I recommend checking out Bare Minerals Matte Foundation Mineral Powder. It comes in a variety of colors and also reduces the appearance of oiliness throughout the day.
Do note that layering of products containing sunscreen doesn't increase the sun protection factor. You'll only be protected by the highest SPF you've applied. For example, if you apply a sunscreen with an SPF of 30 and then a foundation with SPF 15 you won't get SPF 45 protection, only 30.
Use a tinted sunscreen or tinted moisturizer
Instead of foundation, use a tinted sunscreen to eliminate the need for an extra layer of sunscreen, Dr. Friedman suggests. "This is perfect when spending the day outside and hoping to maintain a fresh applied makeup look."
Women of color might find that many of the tinted sunscreens are too light for darker skin tones. You can sweep a light dusting of a finishing powder in your correct shade over the sunscreen to match your color.
Revision Skincare's Intellishade SPF 45 is a sunscreen, moisturizer and sheer tint all in one. According to the company, the product contains "smart tint technology" that matches makes it to your skin tone. It comes in two formulas, radiant and matte, provides UVA/UVB broad-spectrum protection, and is available through dermatologists, plastic surgeons and medical spas.
Carry translucent powder for touch ups
Also keep a translucent powder with SPF of 30+, such as Colorescience Sunforgettable, in your purse and touch up throughout the day to maintain sun protection. "This is also a great product for men as the powder is light," adds Dr. Friedman.
Use a tinted compact with SPF
A tinted compact with SPF is another option for touch-ups throughout the day. Dr. Friedman recommends Avene's Water Resistant SPF 50 tinted compact.
Avene Water Resistant SPF 50 is only available in two shades: beige and honey. Unless you're in the fair to medium/tan range, this tinted mineral sunscreen probably will not match your skin tone.
Jane Iredale offers a better variety of shades in the PurePressed Base SPF 20, which provides UVA/UVB broad spectrum and is also water-resistant.
Make sure the ingredients in chemical sunscreen are photostable
When applying a physical sunscreen containing zinc oxide and/or titanium dioxide, make sure you are applying it over a photostable chemical sunscreen (meaning it won't degrade from sun exposure). Avobenzone (Parsol 1789) can degrade quickly in the sun, but there are brands formulated to prevent this from happening.
Johnson & Johnson's Helioplex® Technology "has the same broad spectrum photostable protection as a sun care lotion, and can be incorporated into a cosmetic compact foundation," says Wallo. "Try the Healthy Skin Compact Makeup SPF 55, which provides natural-looking coverage and sun protection when you step out of the office for lunch."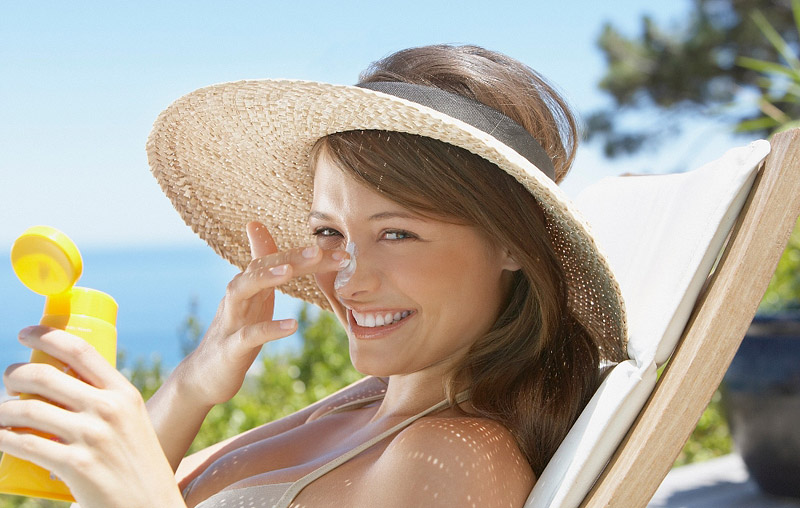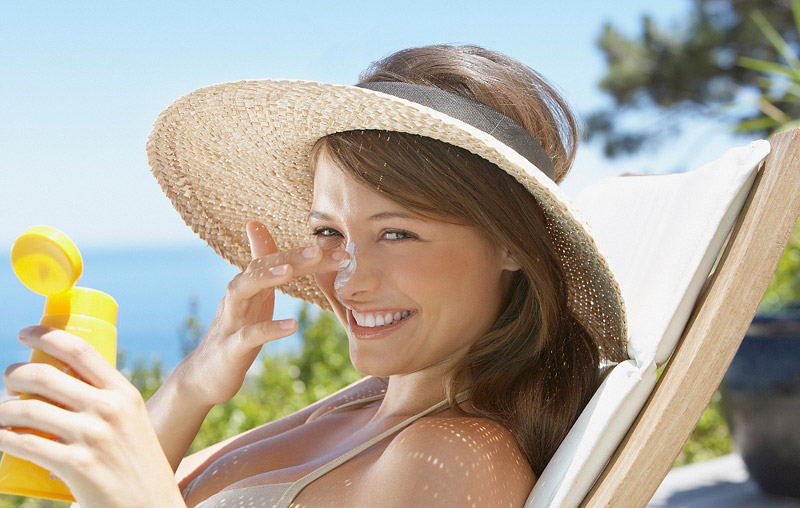 Of the eight shades available in the Neutrogena Healthy Skin Compact Makeup SPF 55, the darkest is Warm Beige, which looks like it's close to my shade, but I've read that the shades will look lighter on the skin than they look in the compact.)
Do you always need to reapply sunscreen?
If you're going to be in the boiling hot sun, swimming or perspiring enough to sweat off sunscreen, you're also washing off your makeup. So there's no problem with reapplying both. But if you're not swimming, or spending time in the sun, chances are your sunscreen is intact. Also be aware of sunlight coming in through the windows of your car, or if you work at a desk by a window.
So there's no excuse—use your sunscreen whenever you will be out in the sunlight.
Source: multiculturalbeauty.about.com