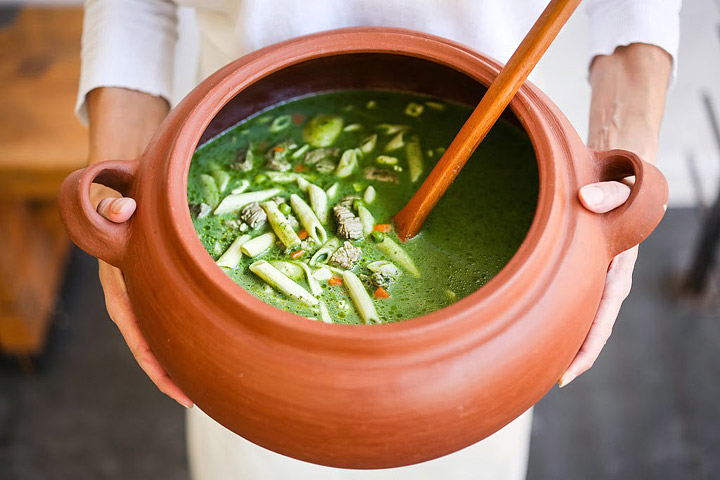 Basil Healthy Recipes: Spinach-Basil Green Minestrone Soup
Ingredients:
2 tablespoons extra virgin olive oil
4 ounces thick cut nitrate/nitrate-free prosciutto, chopped into 1-inch pieces
1 medium yellow onion, chopped
2 stalks of celery with leaves, chopped
2 cloves of garlic, finely minced
1 medium zucchini, diced
1 bay leaf
16oz cannellini beans (or other white bean)
16oz garbanzo beans (chickpeas)
Sea salt and freshly ground pepper
8 cups chicken broth
1 cup mini penne pasta (or wheat-free pasta of your choice)
½ pound green beans, trimmed and cut into 1-inch pieces
10 ounces spinach, stems removed and coarsely chopped, or chard
½ cup grated Parmesan or Romano cheese (optional)
¼ cup chopped fresh basil (or parsley)
Procedure:
Heat a large pot over medium high heat. Add  oil and prosciutto. Sauté for 2 minutes, then add onions, celery, garlic, zucchini, and  bay leaf. Season with salt and pepper to taste. Sauté for 5 minutes, stirring frequently.
Add  white beans, garbanzo beans, and chicken broth. Cover and bring to a boil.
Add pasta and green beans and cook for 8 minutes, or until pasta is al dente (just tender). Stir in spinach to wilt, about 1 minute. Stir in cheese and serve in soup bowls. Top each serving with basil or parsley. Makes four servings.
Source: foodfacts.mercola.com