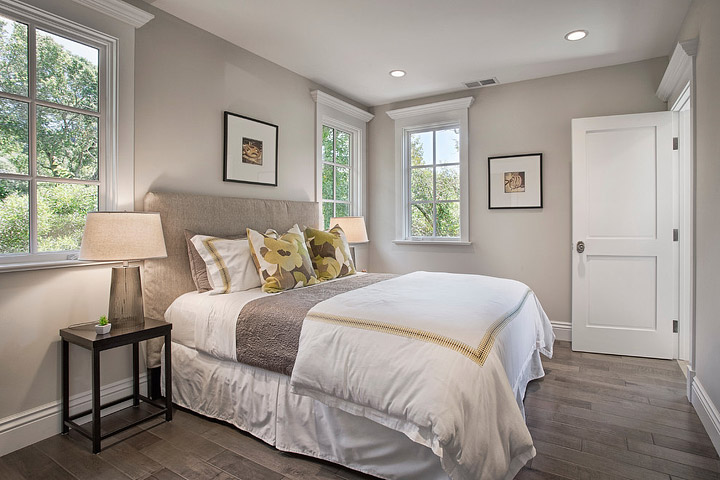 At the end of a tiring day, nothing beats falling into bed in a room that is calm and serene. A bedroom designed specifically to help you sleep needs to focus on simple, pure elements that help you relax and feel at ease.
Peaceful shades
Use natural, neutral colors that gently wash over you, as opposed to vivid shades that stimulate and wake you up. Choosing a set of complementary shades such as beige, cream, taupe and tan, or light grey, sage, cream and sky blue creates harmony and an ambiance that is immediately restful. Select wall coverings and soft furnishings with care, avoiding highly patterned and colorful designs. Heavily textured fabrics, wallpapers and rugs work well, but be careful to restrict to a limited color palette. The sensual touch of faux fur, waffle rugs, suede and crisp linen in muted tones will add luxury that soothes.
Light and shade
Lighting is an important part of a sleep-friendly bedroom. Too much natural light can disturb sleep, but a dark room is gloomy. So what can we do? One of the most stylish and practical solutions for controlling natural light levels are interior wooden shutters. Easy to fit and streamlined in style, the wide range of shutters available means there's a design to suit every room. Whether you choose tranquil white-painted plantation designs or high-gloss lacquered shutters for an injection of glamor, they enable you to closely control the light that enters the bedroom. Whatever the weather or time of day or night, with interior shutters light levels are your decision, making the business of sleep an uncomplicated affair.
Relaxing room
Invest in a bed that offers comfort, support and enough room to allow you to stretch out and relax. Big beds are wonderful, but try not to fill a room with just a bed as it may feel a little restricted and 'cell-like.'
Scale furnishings down when space is tight, focusing on great storage and quality pieces such as compact nightstands and integrated closets. Placing bed-warmed feet onto a cold floor isn't a calming experience, so position carpet or rugs to prevent shocks. A padded headboard makes a relaxing addition and encourages you to linger in bed, reading or chilling out.
A room with no clutter is easier on the eye and much more restful, so have plenty of places to put things. Avoid too much wall art as this is distracting. A few well-chosen houseplants can enhance a bedroom as well as helping to improve the air quality.
Tech ban
Don't let laptops, mobile phones, tablets and TVs invade the bedroom. Tech is the enemy of sleep and screen-time before bedtime leaves the brain over-stimulated and wide awake – far better to take the serene route to bed. Follow a relaxing routine that includes a warm bath, milky drink and a good book, combined with two or three drops of restful lavender essential oil on your pillow, and wait for sleep to claim you.
Sleep is good. Why not give yourself the edge in the battle for more bed-time, with a room optimized for relaxation? Go on, you owe it to yourself.
Source: beautyharmonylife.com