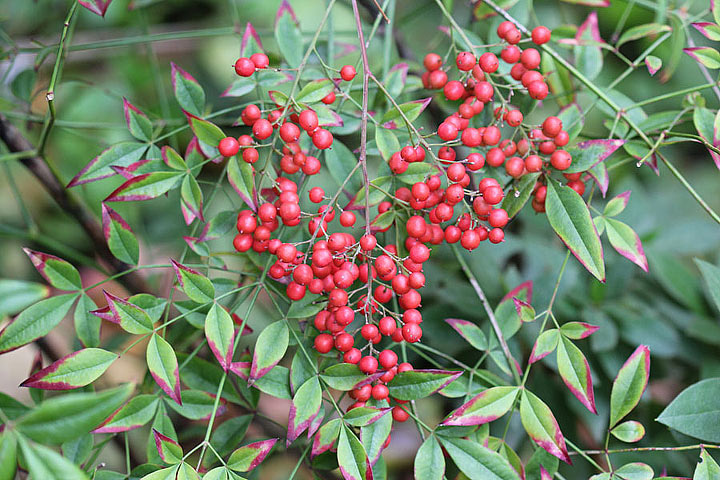 Heavenly Bamboo is a semi-evergreen shrub grown for its attractive foliage, fruit and flowers.
About Heavenly Bamboo
Most known for its lance shaped leaves and colorful foliage, heavenly bamboo is a frost hardy, semi-evergreen shrub with attractive textural and colorful characteristics. Nandina blooms in midsummer with small white flowers. Birds are attracted to the clumps of bright red berries. Fall foliage has a bright red color and being semi-evergreen, the color lasts into the winter season. Size: 4-6 feet. Hardiness zones: 6-9.




Special Features
Nandiana domestica 'Firepower' is the variety most commonly available for purchase at garden centers and nurseries. It begins with lime-green leaves in the spring and that slowly darken to red through the seasons. By fall, the plant is strikingly attractive with bright fire-engine red color, and also bears red fruit clusters into the winter season that are eventually eaten by birds.
Site Selection
Nandina grows best in well drained soil with full sun to partial shade conditions, but is known to have brighter leaf color when planted in areas with greater sunlight exposure. This plant is a common choice in Japanese and Asian garden designs.
Planting Instructions
Prepare the garden bed by using a garden fork or tiller to loosen the soil to a depth of 12 to 15 inches, then mix in a 2- to 4-inch layer of compost. Dig a hole twice the diameter of the pot the plant is in. Carefully remove the plant from its container and place it in the hole so the top of the root ball is level with the soil surface. Carefully fill in around the root ball and firm the soil gently. Water thoroughly.
Care
Heavenly Bamboo is a trouble-free, disease-resistant shrub, requiring minimal care once established. Remember to locate your nandina in full sun for the most dramatic fall color.
Source: garden.org