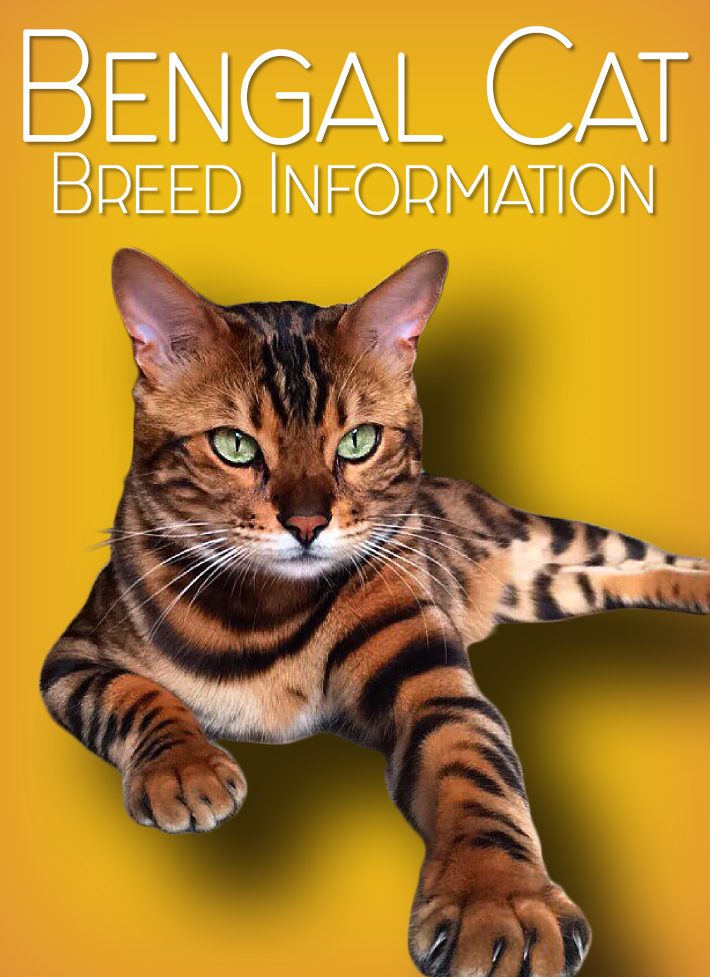 Any Bengal cat owner will agree that, whether you're drawn by their beautiful coat or tempted by their cheeky sense of humour, you'll certainly have your work cut out for you if you welcome one of these mini leopards into your home.
Bengal Cat History
A new and controversial breed, the Bengal is fast growing in popularity, due in part to its wildcat appearance. The Bengal began as a hybrid breed, created by crossing the Asian Leopard Cat with the domestic cat. This was the first effort to use hybrid offspring to create a breed of domestic cat with the loving nature of a favored fireside tabby and the striking look associated with Leopards, Ocelots and Jaguars.
As a breed, Bengals were first exhibited in cat shows in 1985. Today, The International Cat Association ranks the Bengal as its most popular breed, well ahead of runner-up Ragdoll with more than 60,000 Bengals registered with TICA.
Bengal Cat breed looks
The Bengal is most noted for it luxurious short, soft coat which may appear in either the spotted or marble pattern. Some Bengal's coats feature something called glitter which imparts an iridescent sheen to each hair. The spotted pattern is most associated with the "leopard look" as the coat features clearly discernible spots and rosettes. The Bengal's spots can be large or small and often include rosettes, like the spots of Jaguars and Leopards, which are two- toned spots.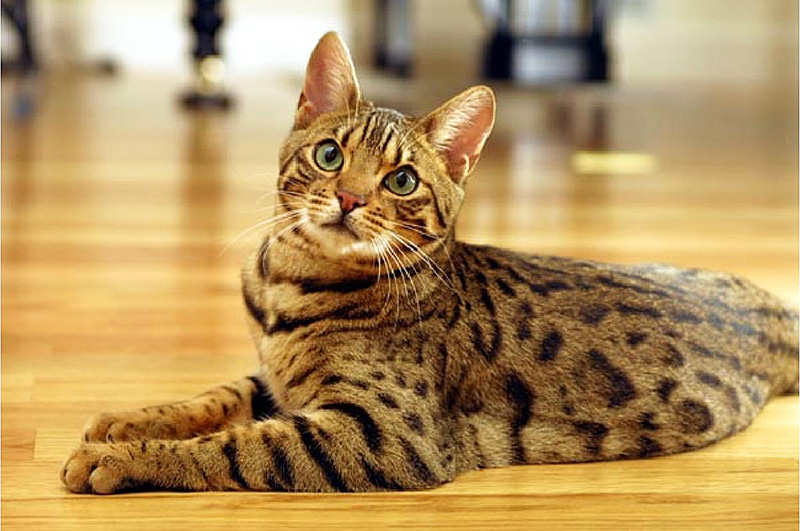 This is a large cat. Bengals weigh 8 to 15 pounds or more. The standard calls for a large, sleek, very muscular cat with hindquarters that are slightly higher than the shoulders, and a thick tail that is carried low. The Bengal cat's head is rounded and slightly longer than it is wide.
The nose is broad and the muzzle full, with a light coloured, strong rounded chin and pronounced whisker pads created by wide-set canine teeth. The ears are medium to small with rounded tips pointing forward in profile.
Personality
The Bengal is highly active and highly intelligent. This makes him fun to live with, but he can sometimes be challenging. On the whole, the Bengal is a confident, talkative, friendly cat who is always alert. Nothing escapes his notice. He likes to play games, including fetch, and he's a whiz at learning tricks.
If you don't like a cat to leave the floor, a Bengal is probably not the right cat for you. Bengals are busy by nature. They are very affectionate and can be a "lap cat" whenever THEY want to be, but in general their idea of fun is playing, chasing, climbing and investigating.
Bengals will also, in general, always want to be where you are. After all, that's where the action is! Many Bengals enjoy water and may join you in brushing your teeth or taking a shower.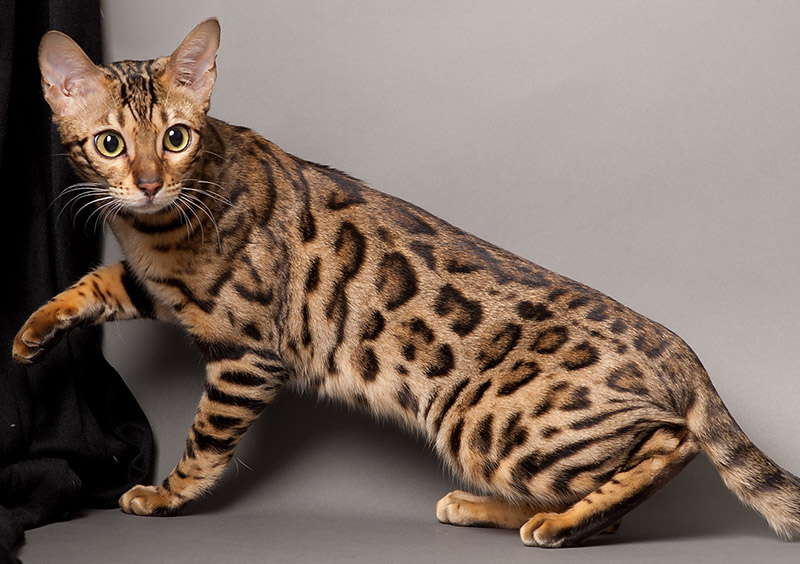 Care
The short, thick coat of the Bengal is easily cared for with weekly combing to remove dead hair and distribute skin oils. A bath is rarely necessary. Brush the teeth to prevent periodontal disease. Daily dental hygiene is best, but weekly brushing is better than nothing.
Trim the nails every couple of weeks. Wipe the corners of the eyes with a soft, damp cloth to remove any discharge. Use a separate area of the cloth for each eye so you don't run the risk of spreading any infection. Check the ears weekly. If they look dirty, wipe them out with a cotton ball or soft damp cloth moistened with a 50-50 mixture of cider vinegar and warm water. Avoid using cotton swabs, which can damage the interior of the ear. Keep the litter box spotlessly clean.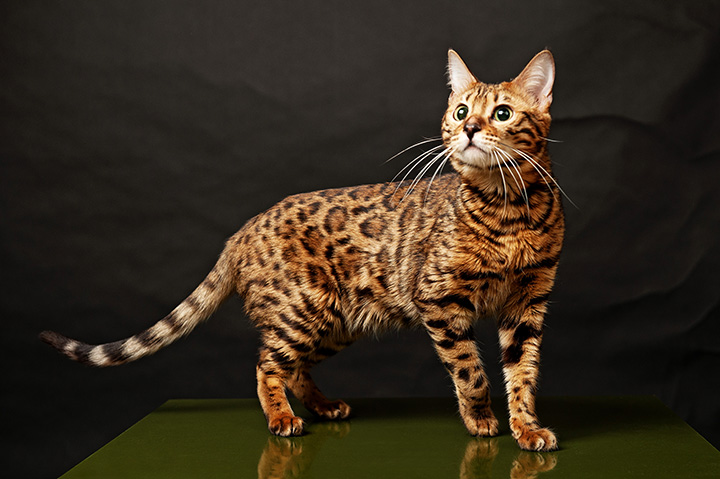 Cats are very particular about bathroom hygiene, and a dirty box may cause them to start using other places in the house instead. It's a good idea to keep a Bengal as an indoor-only cat to protect him from diseases spread by other cats, attacks by dogs or coyotes, and the other dangers that face cats who go outdoors, such as being hit by a car. Keeping him indoors also protects local birds and wildlife from this avid hunter.
If possible, build your Bengal a large outdoor enclosure where he can jump and climb safely. Bengals who go outdoors also run the risk of being stolen by someone who would like to have such a beautiful cat without paying for it.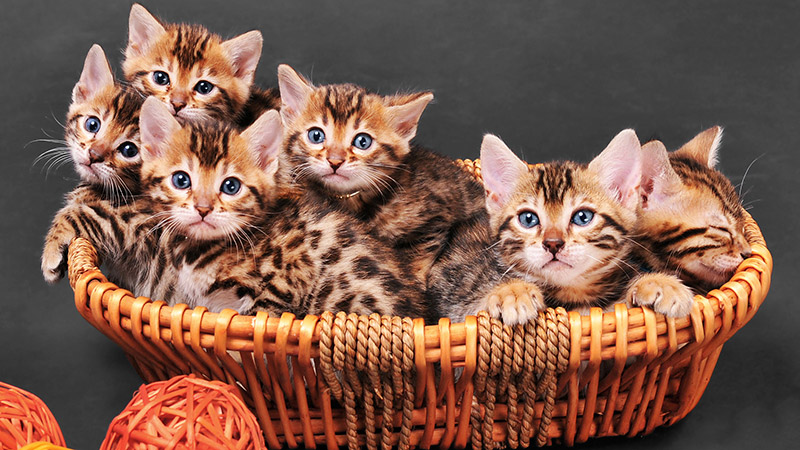 Health
Both pedigreed cats and mixed-breed cats have varying incidences of health problems that may be genetic in nature. Bengals are generally healthy, but the following diseases have been seen in the breed:
Distal neuropathy, a nervous system disorder that causes weakness. It can occur in Bengals as early as 1 year of age. Fortunately, many cats recover on their own, although a few relapse.
Flat-chested kitten syndrome, a deformity that can range from mild to severe. Kittens who survive to adulthood usually show no signs once they reach maturity.
Hip dysplasia, which in severe cases can cause lameness
Hypertrophic cardiomyopathy, a form of heart disease that is heritable in some breeds.
Patellar luxation, a hereditary dislocation of the kneecap that can range from mild to severe. Severe cases can be alleviated with surgery.
Progressive retinal atrophy, a degenerative eye disease.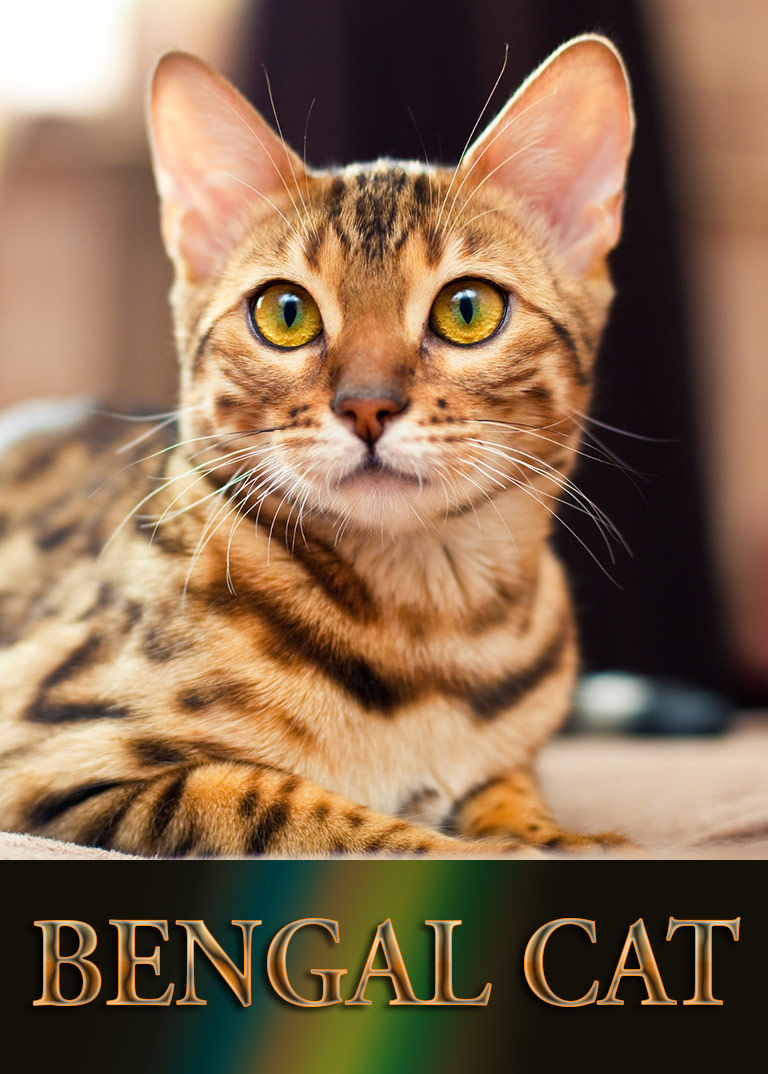 Source: cattime.com